There's no one, definitive way to structure a product marketing team. Every organization varies in size, stage, and certainly for product marketers, function.
While some organizations favor a feature-first structure, for others it's function. Customer-centric companies may prefer to structure by line of business. Salesforce is a great example of this in action and a solid choice for businesses with buyers across different functions.
This particular structure works for Salesforce as they sell different products to different buyers in the same company.
But, what's good for the goose, isn't always good for the gander, and while we don't have the magic formula for the perfect team structure, we do have an awesome community of product marketers who generously shared data on their team structure, average team size and the stage of their organization.
In this article, we'll check out how product marketing teams are structured at companies in various stages of growth, including:
Early post-product market fit
According to our data, the majority of early post-product market fit PMMs report to the Director of Marketing or the VP of Marketing, there's typically a structure of one or two product marketers and a product manager.
The second-largest number of respondents in this bracket were the sole PMMs of the company, with 56% reporting directly to the CEO.
"I report directly to the CEO and am a member of the extended leadership team. VP of Product, VP of Sales, Head of Op, Head of CS, Demand Gen Manager take on parts of the product marketing stack."
- Sonya Noronha, Product Marketing Manager at Street Contxt

"I report to the Head of Marketing, while content and customer marketing report to me."
- Phill Brougham, Product Marketing Manager at Trint

"I report to the Chief Product Officer, and collaborate closely  with the Head of Marketing, Commercial Directors, and head of new business divisions."  
- Nicolas Bryant, Senior Product Marketing Manager at Congenica

Early pre-product market fit
The largest reported PMM team in this bracket was three, this included a Director of Product Marketing and two product marketers.
On average, early pre-product-market fit companies had two people in their product marketing teams.
"We are a very small team, as the product marketing manager, I report directly to the CEO."
- Uche Kene, Product Marketing Manager at Taeillo

"As the Senior Product Marketing Manager, I report into the CMO, and lead a team of two Product marketers."
- Alicia Carney, Senior Product Marketing Manager at Deliveroo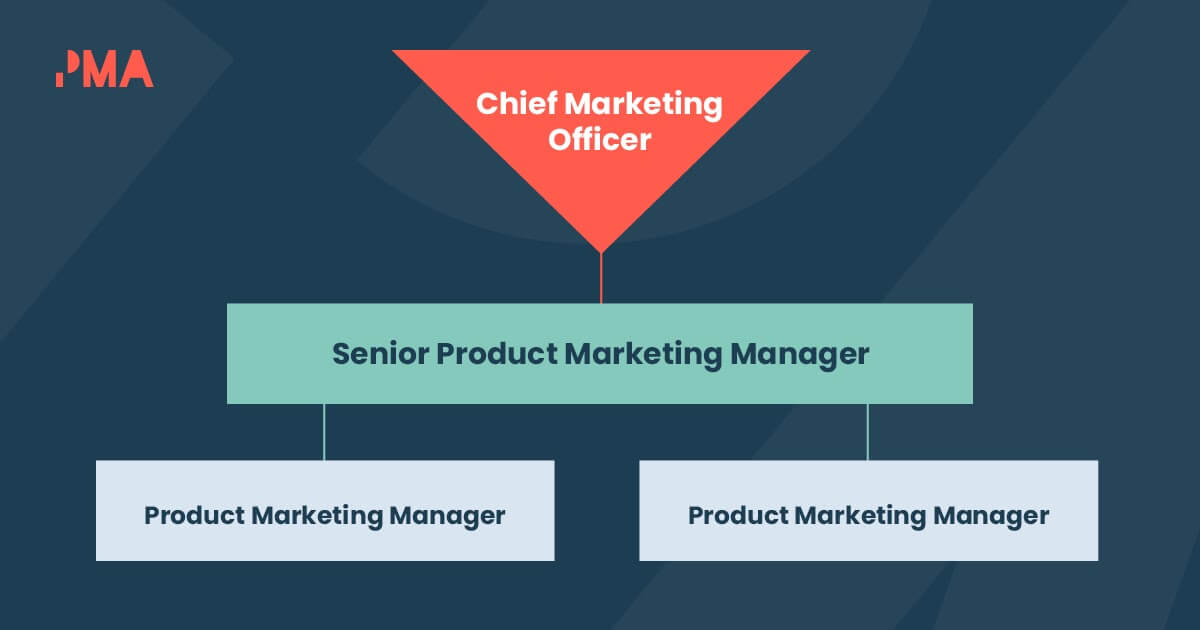 "As an Associate Product Marketing Manager, I report to the Marketing Lead. We also have an Associate Growth Marketer who reports to the Marketing Lead."
- Lily Haycraft Mee, Associate Product Marketing Manager at Sphere

"We have three product marketers, each owning a product category and several market segments (for tailored solutions). Each PMM reports to the Chief Marketing Officer. Our Graphic Design and Content Marketing report to the Director of Product Marketing (me)."
- Brandon Most, Director of Product Marketing at Atonix Digital

Mid-growth with established go-to-market team
The largest reported product marketing team in the mid growth and established go-to-market bracket was 40, while the smallest was one!
The average size for a product marketing team at a mid-growth stage company was 8.9 PMMs. Unsurprisingly, with larger teams than an early pre or post fit, most PMMs report to a VP or Director of Product Marketing, while the PMMs who hold those senior titles typically report to the Chief Marketing Officer (CMO).
There were a few exceptions amongst the smaller teams, who directly reported to the CEO.
Let's take a look at some of the team structures at play from PMMs...
"I'm the only product marketer, reporting to the Director of marketing. The whole marketing team consists of four people, including myself, the director, a digital marketer, and a regional director in charge of global messaging."
- Michelle Lakov,  Product  Marketing Manager, Lux Research

"I function as Brand Lead for the GBC Brand and am also leading the commercialization for our new Health & Wellness Line. New product and product category commercialization has been my responsibility for the last few years. While I report to the Director of Product Marketing I work directly with the VP of Product Marketing on a regular basis. I have a small team report to me to support my initiatives".
- Daniel Charwath, Product Marketing Manager at ACCO Brands

"We have a VP and Director of Product Marketing, under which they have traditional PMs, Value consultants, competitive intelligence, and customer marketing. Customer marketing consists of Advocacy and Adoption."
- Jess Armstrong, Seismic, Customer Adoption Manager at Seismic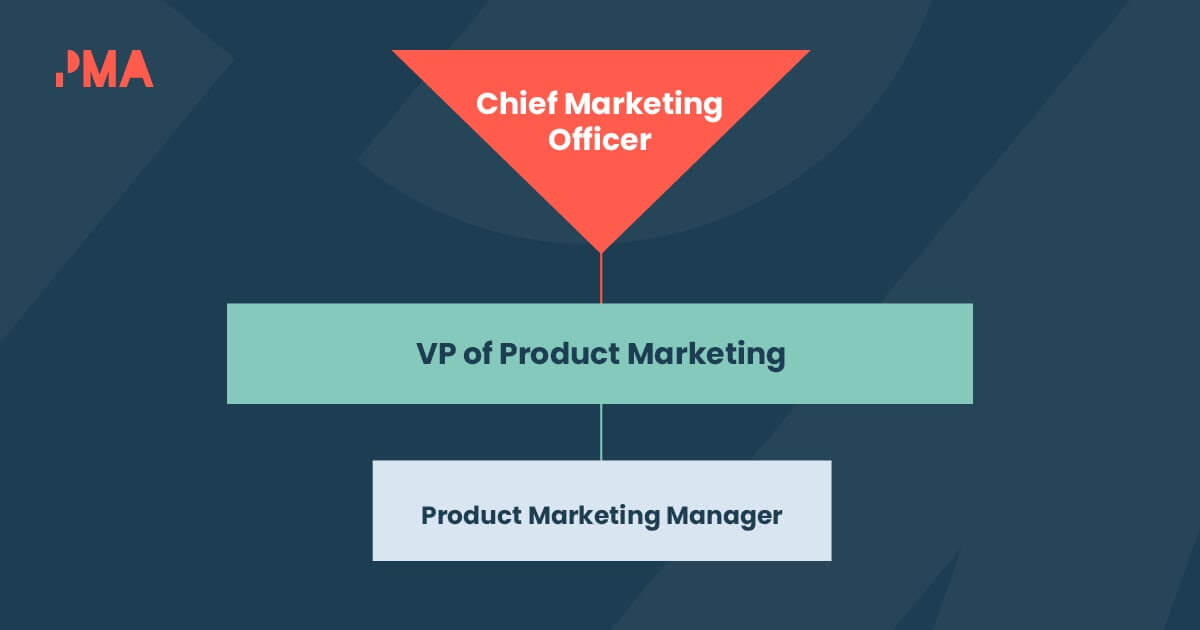 "Right now PMM reports into product but at my last company, we reported into marketing. In the past at other places, we rolled into marketing and outbound product management. Our PMM group also owns pricing, packaging, analyst relations, and competitive intelligence too. Last company we owned sales enablement. Depends on how big the company is and how complex the product is (I find)"
- Natalie Louie, Senior Director of Product Marketing at Zuora

"We have three Product Marketing Managers each aligned to a different internal organization (one to Product, one to CX, and one to Revenue), all three report directly into the Product Marketing Director. She then reports into the CPO."
- Lara Verlinden, Product Marketing Manager at Showpad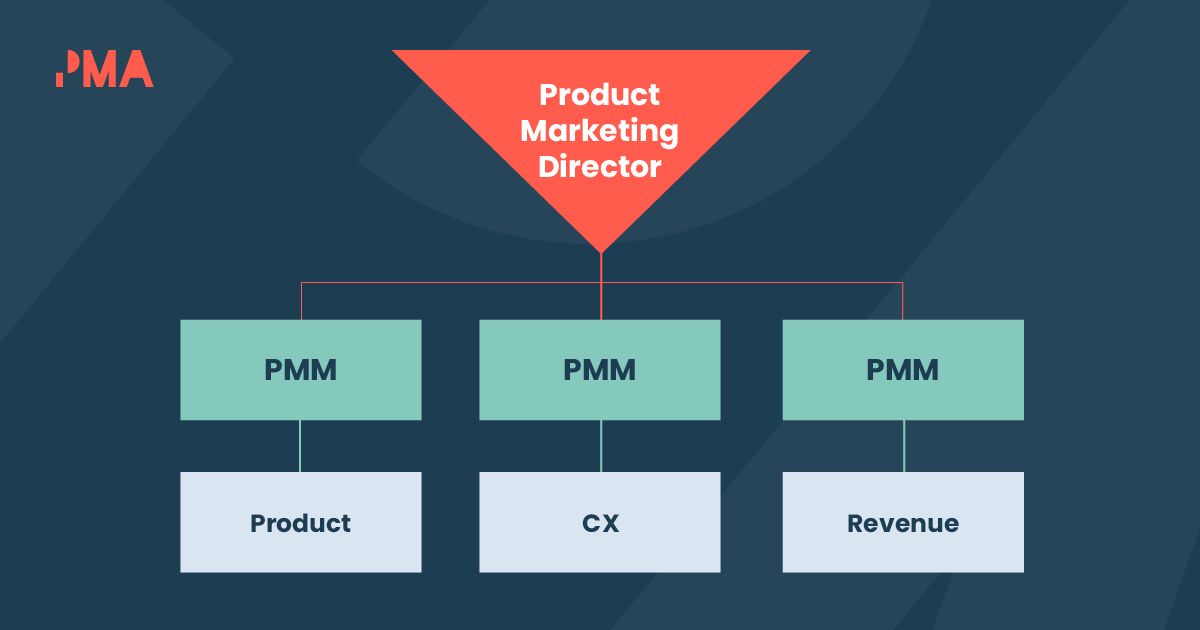 Late growth/scale-up
The biggest team reported was Facebook with 300 PMMs! Structured by function or product.
While the average size for a late growth/scale-up PMM team clocked in at nine, almost the same as the mid-growth teams.
Surprisingly there were still some solo PMMs in the pack, who all revealed that they primarily report to product.
Here's what our PMMs had to say about late growth team structures...

"I report to the Chief Marketing Officer and three primary functions report to me:
1. Portfolio Marketing (aligned to Product Lifecycle Management Framework with Product Management and Global Sales Enablement);
2. Industry Marketing (aligned to Marketing and Sales to define GTM strategy and build integrated marketing plan)
3. Buyer and Competitive Intelligence (supports Portfolio and Industry Marketing functions)."
- John Clark,  VP of Product Marketing, HERE Technologies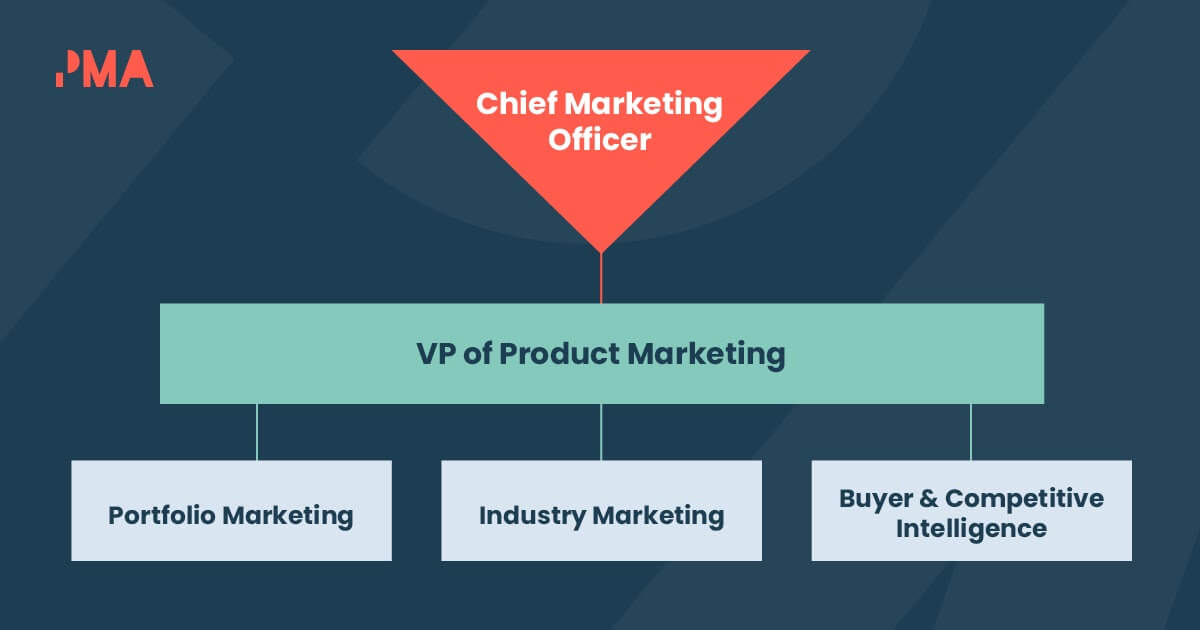 "Product marketers are embedded in specific products and report to a Team Lead who is also one of the embedded product marketers. He reports to the VP of Marketing. She reports to the CEO."
- Matt Thompson VP of Product Marketing at Soprano

"All PMMs are on a single team reporting to the Senior Director of Product Marketing. While on the same team, we work within our own lines of business/ products, working with field marketing, sales, delivery, and customer success on a regular basis."
- Carrie Koos, Product Marketing Manager, Blackboard

"PMMs are responsible for individual products. Competitive Intelligence and Pricing managers span the portfolio and support all of the PMMs."
Alex McDonnell, Senior Product Marketing Manager at InVision

So there we have it!
As we mentioned before, there will never be a one-size-fits-all approach, and even with the inspiration, we hope you've found today, as a product marketing leader you'll still have some difficult decisions to make about where to optimize and how to properly align your team.
The good news is though, if you're a member of our Slack community you'll have a ton of product marketers at your fingertips, always willing to offer experience and advice on an array of topics, whenever they're needed.