If the initial point of contact with a prospective customer is a battle, sales assets are the weapons you equip your reps with, and better equipped sales reps close more deals, it's a fact.
With Google at their fingertips, consumers are more savvy than ever, and they're conducting hours of research into the products they're considering, including your competitors'. If your prospective customers know more about your product than your sales team, well, frankly, it looks really bad.
But don't worry! In this handy guide, we'll be breaking down the different types of sales assets, and where you can apply them to ensure your sales team has the relevant content, knowledge and skills to exceed your customers' expectations and meet their targets.
So, let's start by looking at the different types of assets out there.
Internal & external assets
Sales assets come in an array of different forms, but they can all generally be split into internal and external facing assets.
Your internal assets include:
Battlecards
Product sheets
Sales scripts
Competitor comparisons
And your external assets include:
Case studies
Product demos
Blogs
Guides
Webinars
Whitepapers
Sales one-pagers
Let's break them down, starting with:
Battlecards
If you don't arm your sales team with the knowledge they need about prospective customers, products, and competitors, you may as well have asked them to paint a replica of the Mona Lisa without a paintbrush, or an easel or any paint.
According to a B2B Procurement study from the Acquity Group, 94% of B2B buyers conduct extensive online research before making a purchase, so it's vital your sales team are armed with the right knowledge they need to match the prospect's research and answer any questions that will certainly arise, that's where battlecards come in.
Battlecards are concise, actionable summaries of your product, the market, existing customers, and the competition and their job is to equip your sales team with quick-fire responses to questions, queries, or objections a customer might have.  
Your battlecard will obviously be super specific to your product, but we can show you an overview of the key things your battlecard should include plus a few examples to give you a head start.
Overview
This should be a brief description of your company, your product and what you're offering. Keep it punchy, around two or three sentences should do it.
Customer pain points
Here's where you address why people buy your product. If you take a look at the example battlecard below, the company featured sells health insurance to businesses. One of their customer pain points is that employees just can't afford high deductible plans. If you were selling security software one of your customer pain points may be that they're especially vulnerable to data breaches.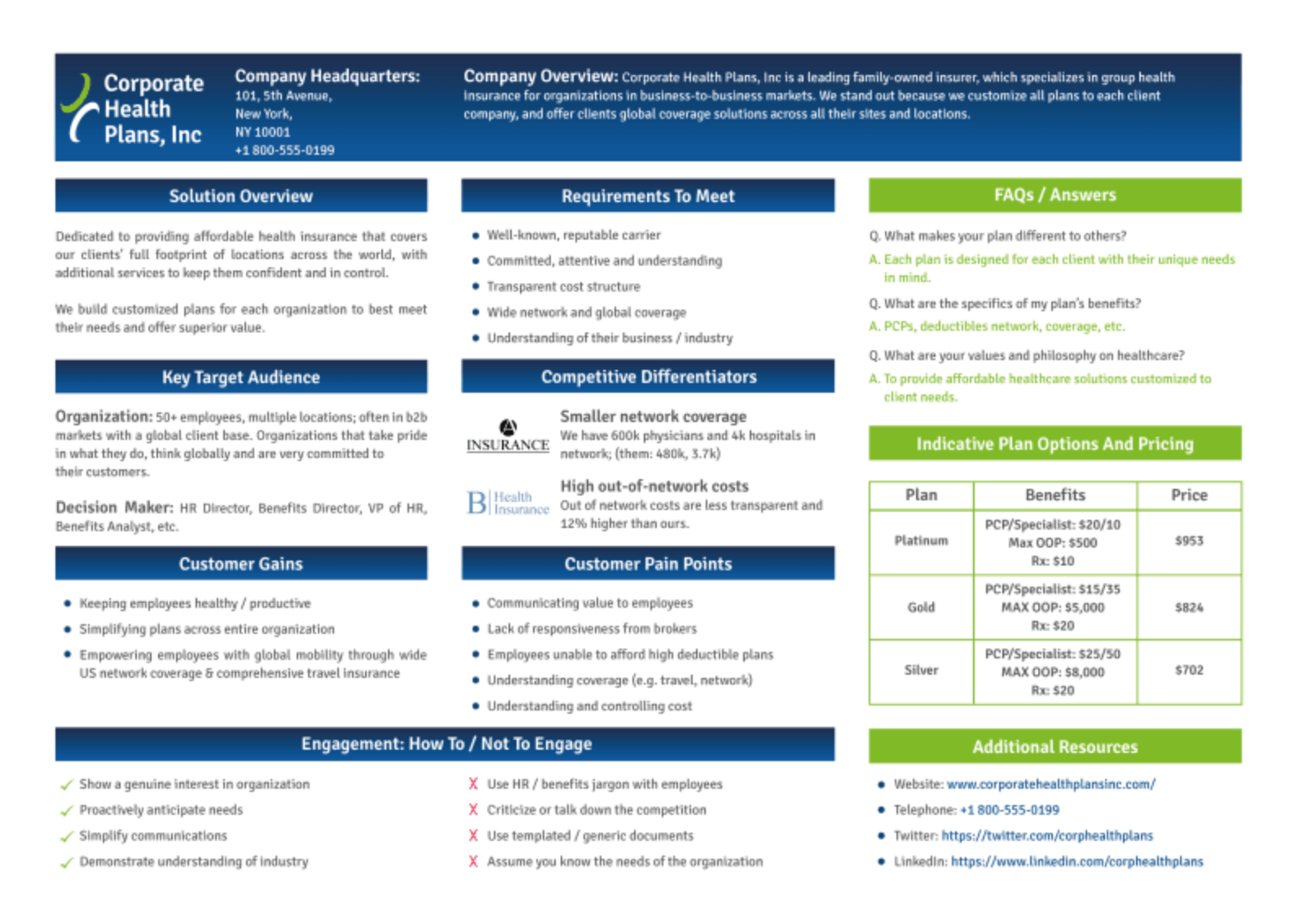 Key features
Now you've identified the customers pain points you need to demonstrate how your product addresses them. In the example above we looked at how most employees couldn't afford health insurance, this will obviously impact their health and well-being enormously. So, as well as how well they were able to address any health concerns, in this section of the battlecard we'd point out how offering employees your health care plan would ensure a healthier and more productive workforce.
Key differentiators
This is where you match your product up against your competitors. If for example you were  offering a software solution, Is your product speedier? Does it have more features? Is your support better? A handy grid format like the one below will help your sales team answer these questions quickly and confidently.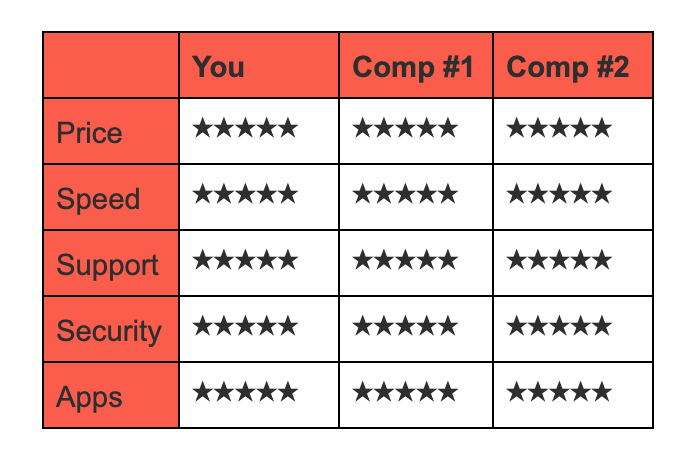 Why we win
In this section, you'll need to know what's important to your potential customers, is it price? Customer service? Security? List the relevant benefits your product provides and back it up with specifics. Use statistics, numbers and real-life success stories.    

Handling objections
What common objections do your sales team face when they're trying to sell your product? And how can they constructively respond to these in a way that keeps the pitch on track?
List your top three or four objections in this section and script a response your sales team can refer to when they're met with these common obstacles.
Questions to ask
List two or three questions your reps can ask the prospective customer to best position your product. How do you feel about your current solution? Is a good starting point. It gives your sales reps the opportunity to differentiate your product from the competitors. You could follow up with: what's the most frustrating thing about your current solution? This question gives your reps insight into the prospects pain points and enables them to effectively position your product as the solution.
Pricing
Prospective customers will almost always want to talk about price, and they'll want to know how you match up against your main competitors. So, to make sure they have everything at their disposal to answer those questions accurately and confidently, be sure to include a section on it.
Tip: remember to keep an eye on your competitors' pricing,so your sales reps don't accidentally give out out-of-date info.

Quick tips
Here's where'd you make a few short notes about how your sales rep can get the most out of the call, for example you might list a couple of questions you really want your rep to ask, Something along the lines of: "Ask how many contacts they have" or "Find out what their current solution is early on."
Third-party validation
Do you have any reputable accreditations or endorsements? Awesome! Add them here.
What great things are your existing customers saying about you? You might mention a recognisable company that would recommend you to clients or mention a comment a customer made about how much quicker they completed a task with your solution compared to a competitor.
Relevant customers
Here's where you give your prospective customer FOMO, by reeling off the companies you already have as customers that they're likely to relate to.
Remember to keep it relevant though, if you're targeting an SME they're more likely to relate to another SME over a Fortune 500 company.
Product sheets
Product sheets are more detailed documents that cover your product's specifics, so that sales reps don't get caught out on some of those tricker, tech heavy questions.
It's difficult to give an example of a product sheet, because its contents will be 100% unique and hyper-specific to your product, but if you're a B2B Saas business you might want to include information such as:
How many apps you can integrate with,
What your storage space is, and
How many users you can have under one account, and so on.
If you're working with a B2C consumer goods product, for example, a laptop, you might mention the warranty period, different colour options and disc space.
Never underestimate the level of technical acumen you need to include in a product sheet, prospective customers do their research, as we discovered earlier on in the article, if you're not 110% confident, bring your product teams into the enablement sessions and add their input when you're creating the document.
Sales scripts
We know what you're probably thinking at this point, there's nothing worse than picking up the phone to a sales rep who's clearly reading a script word for word, and you'd be right, it's the worst. Think of it as more of an outline where you'd list some key talking points that your reps can use to hit all of the right notes.  
Here's how we'd structure ours:
Introduction
Your sales rep should always start by introducing themselves, the company and your product, keep this part short and sweet, if they go in for the hard sell too soon the prospect will be put off and likely won't want to continue the call.
Build a rapport
Follow-up with a light-hearted and personalized question - a bit of LinkedIn stalking should give your salespeople something to work with.
Get stuck in
Time is of the essence - for both the sales rep and the prospective customer - so once they've established that relationship, casually move onto what they really called for.
Objection handling
Don't let objections go to waste, provide your reps with ways to turn them into opportunities.
They might be met with a resounding  "Not for me, thanks." But if they ask the right questions they might  find a solution for another of the prospect's problems or pain points. Instead of "Ok thanks for your time," the rep would follow up with: "If you have time, it'd be great to understand what other challenges you might be facing/looking for support with," OR "Do you think something like this might be beneficial to some of your colleagues?" providing they're not the gatekeeper, of course.
We've got a really comprehensive template for sales scripts over in our members area that looks at the conversational side of things in much more detail, and if you're not a member here's a little teaser: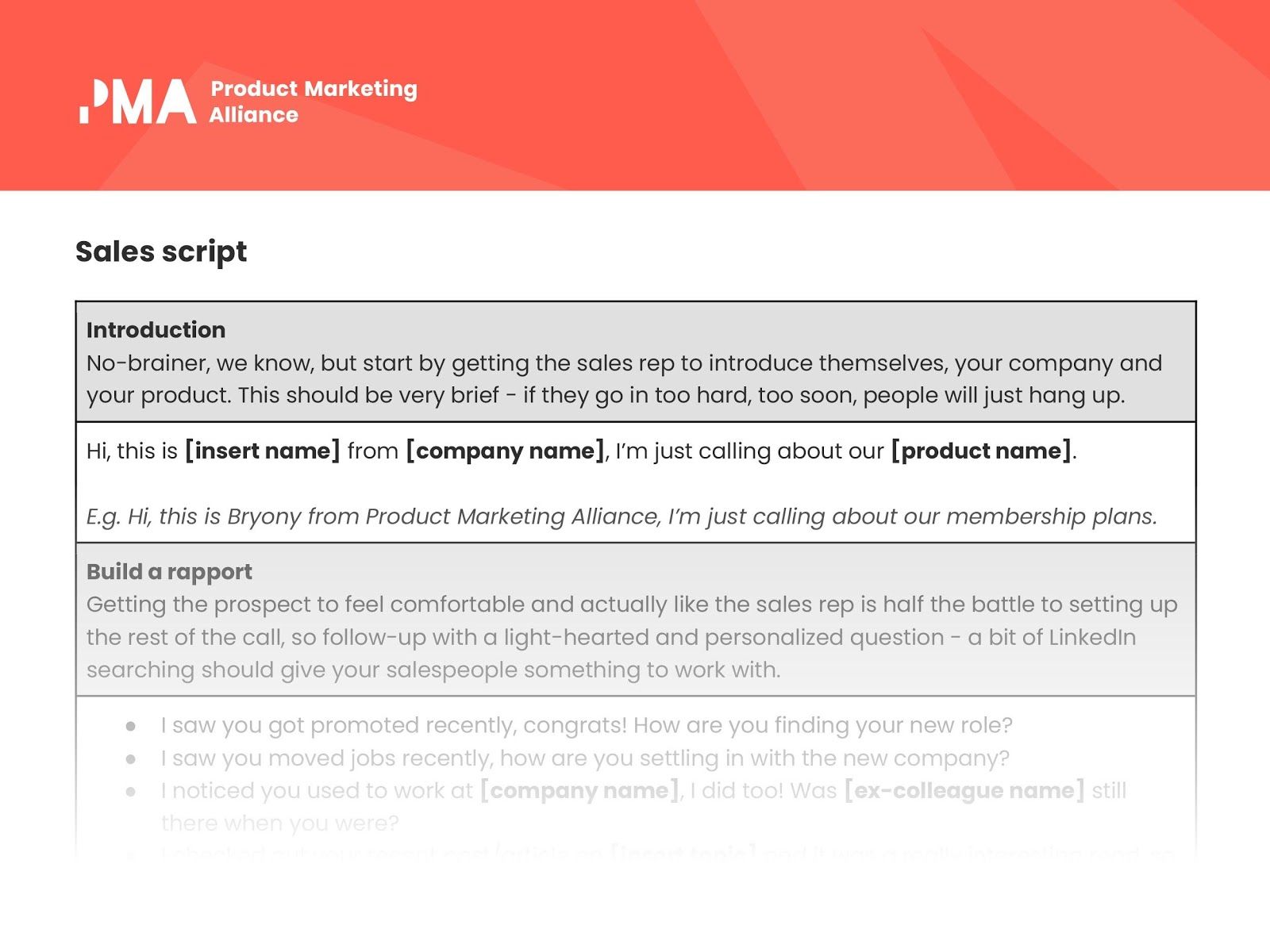 It's inevitable that some of your prospective customers are going to bring up a competitor and question how and why your solution is better than the competition's, and it's essential that your sales reps understand what else is out there and how your solution stands up next to it.
Here are a couple of examples of competitor comparisons in action.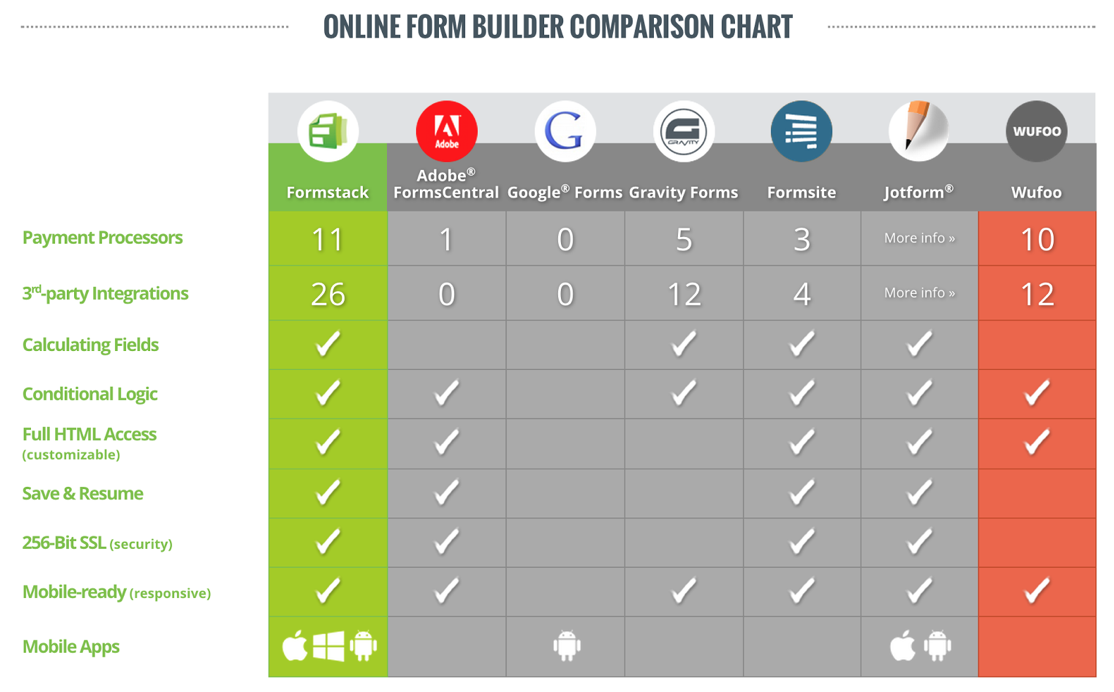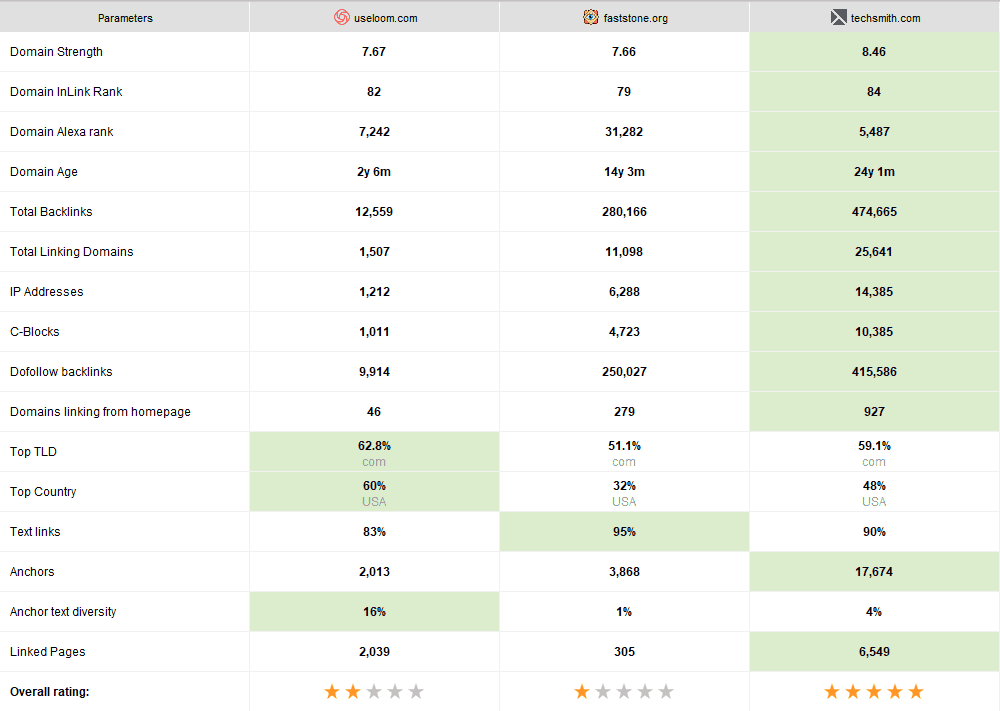 As you can see, they're slightly different, but both are clear, concise and easy to understand. When your sales reps are on a call they don't have time to read paragraphs of text, they need something they can quickly scan and instantly respond with.
External sales enablement assets
Now we've covered internal assets, let's move onto customer-facing assets. We won't go into a huge amount of detail here, most of them are pretty self-explanatory, but we'll take a good look at sales one-pagers.
Sales one-pagers
As the name suggests, these are single page assets that provide potential customers with a high level overview of what your product is and how it benefits them, and it's packed with proof points throughout. Here are a couple of examples.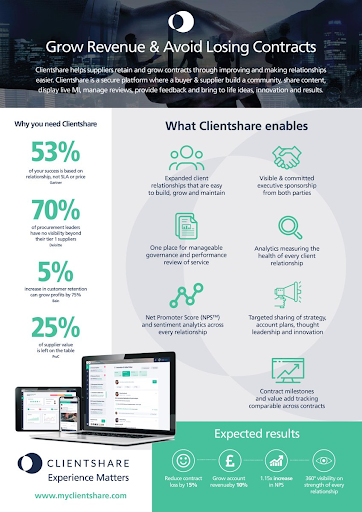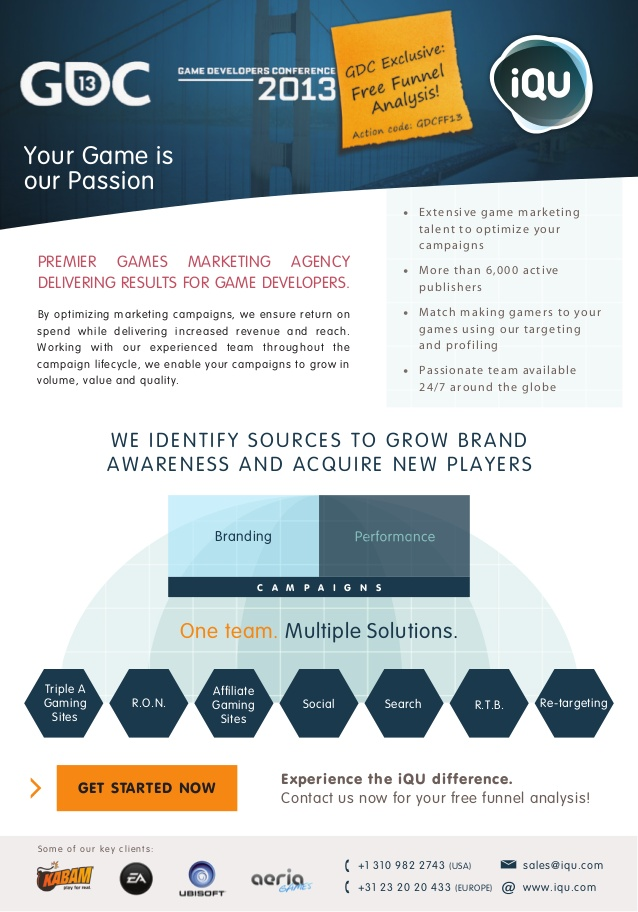 A sales rep might send a prospective customer a one-pager to serve as a visual reminder of everything they covered in the first call. The prospect can refer to it when needed and potentially share it with other decision-makers on their side.
You may need to tailor your one-pagers, because if your prospect is classified as a sales-qualified lead a blanket approach isn't going to cut it. A one-pager might be something you create several variations of, for your sales team to pick and choose from and if you wanted to make these one-pages work even harder for you, they could be used by marketing as handouts, or at events and conferences as promotional material.
Blogs, case studies & whitepapers
You might be thinking the other assets we mentioned, like blogs, case studies, whitepapers etc, sound more like lead-gen pieces and to an extent you'd be right, but they definitely have a place in sales enablement and here are the two main reasons for this.
If a lot of people are entering your funnel after downloading a whitepaper, for example, you want your sales reps to know as much about the whitepaper as possible so they can use it during their conversations as a) a hook, b) to build a rapport, and c) to get to know their audience before they even have that initial phone call.

These kinds of lead-gen pieces can still be used by salespeople to add value to the customer's journey. For example, if your sales rep has a conversation with a prospect about the future of augmented reality, and your rep knows you recently published a really in-depth thought leadership piece on this, if the prospect hasn't already read it, sending a follow-up email along the lines of it "It was great chatting earlier, as promised, here's the link to the augmented reality piece we spoke about - let me know what you think" is a great excuse to not only get into their inbox and remind them of your product again, it adds credibility and value to their journey with you.
So there we have it! We've covered some of the basics of sales assets, which we really hope you find useful. You can access a more comprehensive guide on our website, where we've put together a bank of editable templates and frameworks to make life easier for PMA members and PMMs who've either enrolled onto our Product Marketing: Core [On Demand] course, or Product Marketing: Core [Live + Online] accreditation.