Sales reps understand your market better than almost anyone in the organization.
They spend their days talking to prospects, answering queries, dealing with customer complaints and receiving real-time feedback - vital information for a product marketer, if you can get it.
We asked over 400 PMMs how they facilitate sales enablement efforts for their teams, using data gleaned from The Sales Enablement Landscape Vol 1.
Let's take a look at the results and how they shaped the sales enablement landscape.
How do you listen to your sales reps?
Listening to your team is pretty much leadership 101, but you'd be surprised by the amount of senior managers who think that listening to a sales recording or reviewing statistics and drawing their own conclusions is the way to address their sales teams needs.
Thankfully in this instance, the (almost) resounding answer to the question 'how do you go about listening to your sales team's needs?' was 'by speaking with sales leaders face-to-face'.
The second most popular answer was 'using data obtained in win-loss interviews'.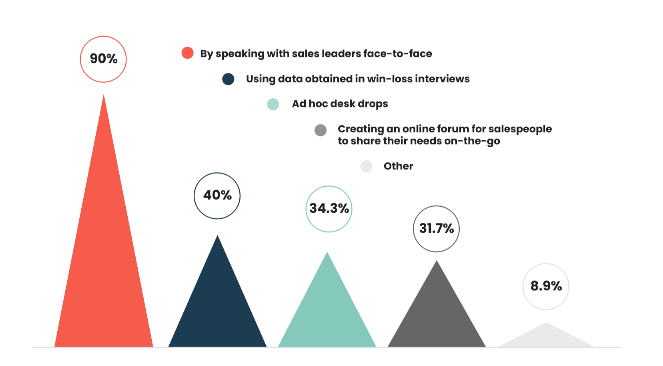 Answers to the 'other' section included listening to Gong recording, reviewing analytics in Account Heroes, Slack and analytics from Guru.

"PMMs should support and enable their sales teams to achieve greater and faster conversion rates for sales pipeline. "There's a whole range of content needed to develop and win opportunities. PMMs define the positioning for the right audience, strengthen the proposition and analyze performance by being the bridge with products and marketing. And we learn from customers too, together with sales."
Bradley Harrad, Product Marketing Manager, OVHcloud
How often do you organize training sessions?
Regular sales enablement training covering everything from product sales training, buyer personas and sales processes ensure your reps have everything they need to effectively sell your product, which is why the following results were such a surprise.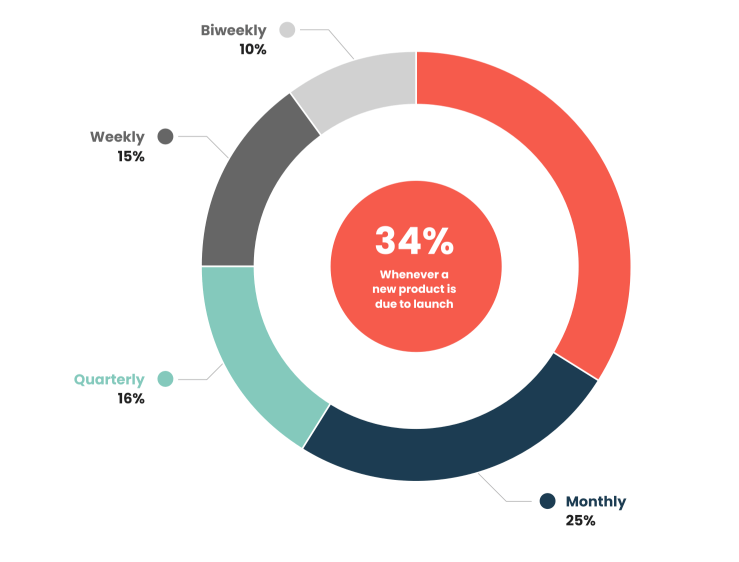 One-third of the PMMs surveyed only organize sales enablement training sessions when a new product is due to launch, while a quarter of PMMs hold monthly sessions.

"We have sales enablement tracks for new-hire onboarding*, where the goal is to get to know the products and be able to tell a story about them. These training sessions are hosted in our learning management platform, and are accessible to anyone for a quick product refresher. W e also have product release training where we walk the entire revenue team through how each product - and their narrative - evolved. Depending on when your product team release updates, this can be hosted once a week or once a year.  
"To better prepare our teams for what's to come, we host training prior to the launch or update. The intention is to provide the revenue team with a solid understanding of what the market challenges have been, what our customers told us they wanted, and what we've built as a result of that feedback, and the resources we're equipping them with to be successful. It also gives them a chance to ask questions, so they can be more confident in the details ahead of customer meetings."  
Gwendolyn Smith, Senior Manager of Product Marketing, Litera Microsystems
*Psst. Need a hand with the onboarding process? You're in luck, 'cos we've popped together  a string of specialist onboarding templates for PMA members. 😉
How is the effectiveness of sales enablement efforts measured?
OKR's, objectives and key results are actually pretty commonplace for sales teams. There are a ton of questions you can ask your reps that will allow you to see what is and isn't working. There are also a number of different ways you can measure sales enablement success, which is why it came as no surprise that when we asked PMMs how they measured, the effectiveness of their sales enablement efforts answers were a mixed bag. 48.7% of PMMs conduct surveys with their sales reps, while 47.6% looked at conversion rates throughout the buying funnel.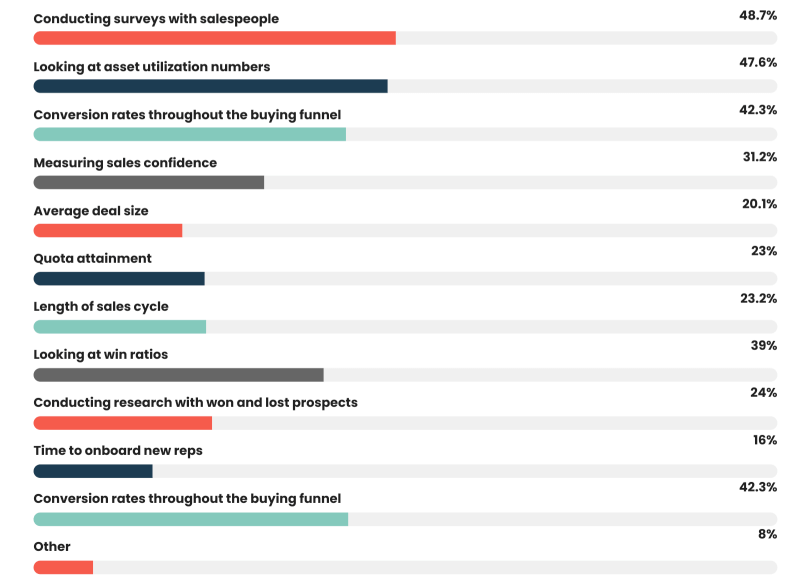 Other included quantitative metrics like share rate and scroll rate, number of reps attaining quota and discussions with sales leaders.
If you could use some help putting OKRs in place, download our free eBook!
How often are sales enablement efforts reviewed?
Reviewing the metrics we mentioned above should be pretty high priority I think you'll agree. Across small, medium and large teams 32.3% review their efforts quarterly, while a shocking16.6% couldn't even remember the last time it had been reviewed!
Would you like to learn more about sales enablement? Check out our Product Marketing Core [On Demand] course and get certified! If live and online is more your speed, you can get certified on our live interactive course, delivered in person by a product marketing expert.