2020 product marketing award categories
Here at PMA, in one way or another, we aim to celebrate product marketing excellence every single day. Once a year though, we pull out all the stops with our Product Marketing Awards and this year, we're coming back bigger and better than ever.

We've added not one, not two, but eight new categories to the line-up, and in light of COVID-19, we'll be announcing the winners online and handing out the trophies via the post (instead of our planned gala in San Francisco).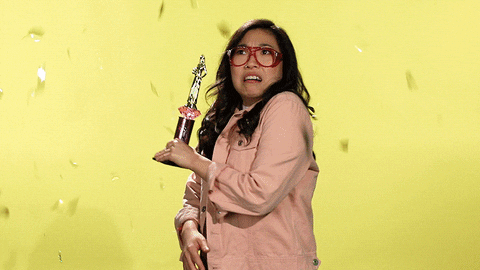 So, whether you want to nominate yourself or put a colleague or your company forward, here are the awards up for grabs: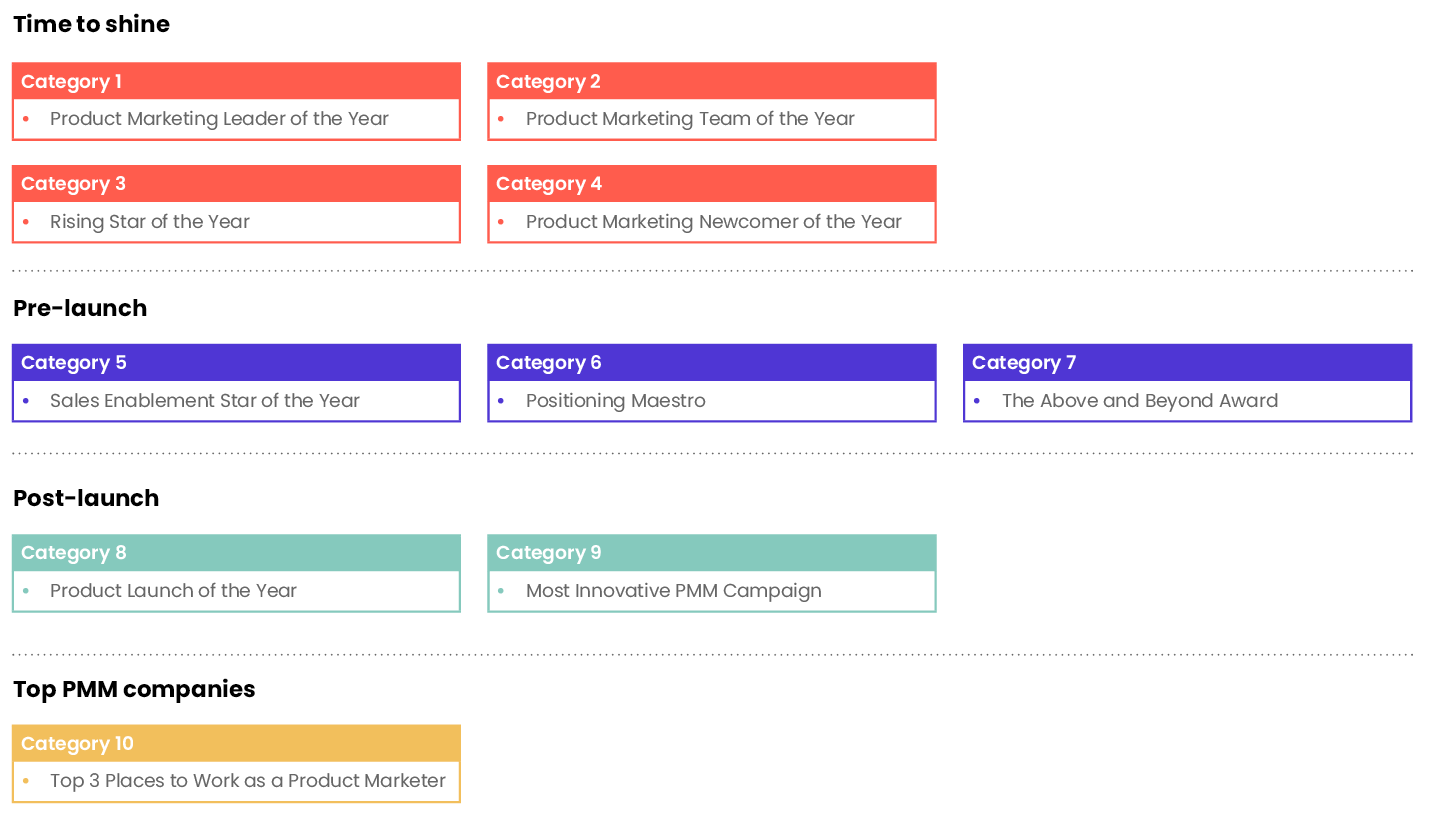 Important dates:
Submission deadline: August 7th
Finalists announced: w/c September 14th (we'll be announcing a winner a day, over an 11-day period

So, let's take a look at each…
Product Marketing Leader of the Year

If you or someone you know is a PMM exec who's leading their team to do great things, this could be the one. It's all about recognizing outstanding leaders who not only show an intense commitment to their teams and targets, but to customers too.

Catch-up with last year's Product Marketing Leader of the Year, Elizabeth Brigham, here.
Product Marketing Team of the Year

Has your team been absolutely killing it for the last 12 months? Then we wanna know about it. Bundles of commitment, strong relationships, and awesome results are what we're looking for in this category so if you're in a team of rockstars (or know one) with the results to prove it, get nominating.

Catch-up with last year's Product Marketing Team of the Year, G2, here.
Rising Star of the Year

If you're new (ish) to the industry and you're knocking it out of the PMM park, you (or someone you know) could be on track to be product marketing's next rising star. We're looking for PMMs who're crushing their goals, oozing with passion, and really having a positive impact on their product, team, and company.

Catch-up with last year's Rising Star of the Year, Martin Aguinis, here.
Product Marketing Newcomer of the Year

Are you a newbie, filling the product marketing party with your infectious attitude and the sweet smell of success? Whether it's you, or your colleague, put modesty to one side, sing from the rooftops, and make yourself known, 'cos we wanna hear all about it.
Sales Enablement Star of the Year

Do you (or a member of your company) go above and beyond to keep in touch with your prospects and customers, provide salespeople with valuable data, set reps up for success, and increase sales conversions? If so, it sounds like you're a star of sales enablement, propping up the sales funnel, singlehandedly.
Positioning Maestro

Whether it's nailing a USP, swotting off competitors, or succinctly defining core product benefits, a positioning maestro is a master of their craft. Irrespective of whether you want to nominate yourself or your team member, position them to the forefront of our minds and give them the acclaim they deserve.
The Above and Beyond Award

Sometimes, we have to work overtime at the office to pick up an outstanding project, meet that launch date, take that customer call, or mentor a newcomer, and every company has that person willing to roll up their sleeves and do all they can to get the job done - all year round. Not all heroes wear capes.
Product Launch of the Year

Here at PMA, we're suckers for an all-singing, all-dancing product launch. Mainly, because we appreciate how much time and effort is involved. From audience research strategies to social media outreach, we want to hear every minute detail behind how you bewitched and bedazzled your audience. Go ahead, teach us a trick or two…
Most Innovative PMM Campaign

Hands up who bought a personalized Coke can? Exactly, a LOT of us. Why? Because anything that's remotely different catches our attention and drives our buying habit. So, that's what we're looking for in this category - an inventive PMM campaign, with the sales figures to back the bravado. Ready to blow us away? OK! 3,2,1…
Most Market Growth

Has your company experienced exponential growth? Firstly, congrats, that's awesome! Secondly, tell us about it! (We're very nosy, so the more detail, the better!) After all, a nice award would put the cherry on what seems to be a very sweet tasting cake…
Top companies to work in Product Marketing

Are you one of those people who loves going to work? We're dishing out company kudos to 3 firms that are a product marketer's paradise. So, ask yourself: "Why do I wake up with added vigor and make the dash to the office with an added spring in my step?" It could be the awesome perks, the close-knit culture - tell us what heaven looks like.
Judging criteria

Across the board, we're looking for:
People who're positively obsessed with product marketing;
Demonstrable bottom-line business impact - whether it be revenue, deals closed, lead-gen, stronger processes or setting other teams up for success;
Anecdotal support from at least one other member of your/the nominee's company; plus
Anything you think will help you stand out from the crowd!